Work safely with TIS
At TIS we protect what matters.
And that sentiment has never been more prominent than now.
As businesses up and down the country return to work, TIS are proud to offer a wide range of commercial solutions helping firms do business safely and efficiently.
We can help you protect the health of your people and the security of your property as we learn to live in this 'new normal'.
So, how can we help?
Constantly pushing to provide integrated solutions that deliver security, safety, and stability, now and in the future, our range of Coronavirus preventative systems make this new way of working easy and safe for everyone.
Here's just some of the things we can help you with.
Thermal imaging
Symptoms can be hard to spot but minimising risk is made much easier when you're prepared. Thermal imaging cameras detect body temperature and fever to prevent potential outbreaks and protect others.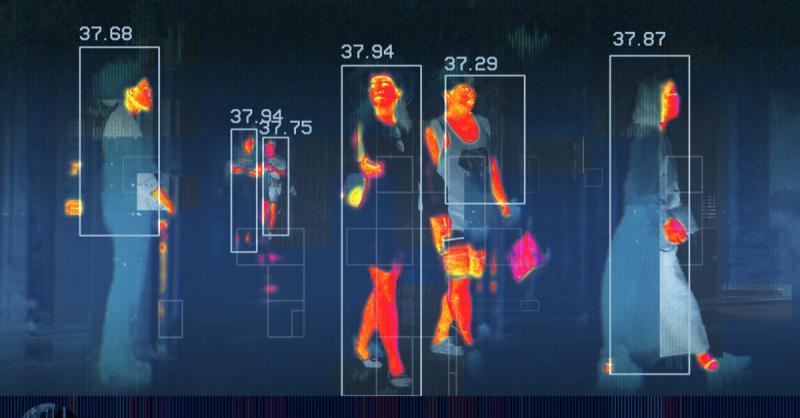 Access management
Crowd control is essential in maintaining social distancing guidelines. Improve queue management and people counting with flow control systems, designed to monitor the number of people in an area or building and limit potential spread.
Improved communication
Keep your people and patrons updated and ensure they adhere to new regulations with automated PA reminders and multi-speech systems.
Touch-free access
Reducing cross contamination helps prevent spread and minimises risk. Touch-free access control enables you to resume business safely, ensuring the safety and security of your employees and visitors.
Upgraded emergency protocol
Internal doors can be kept open to increase airflow and reduce cross-contamination risk, but what happens in case of an emergency? TIS' range of access control systems can be programmed to automatically shut at the click of a button, saving time and lives.
Property protection
Some firms may be back in the workplace, but others are continuing to work from home, leaving buildings empty and susceptible. TIS can install temporary security systems to help protect your people and property.
Protecting you, it matters
TIS has been protecting businesses for over 70 years. The recent outbreak of Coronavirus has already had a devastating impact on businesses, and we're here to ensure it doesn't cause any more damage.
By installing the right kind of technology and preventative systems, you can ensure the protection of your people and property, minimising risk, and potential outbreaks.
Business can carry on as normal if we all take the necessary steps to ensure our safety. By partnering with TIS, we can help you do just that.
Interested? Get in touch to request your free, no-obligation site survey or give us a call to discuss your needs.
Latest news
TIS acquires smoke control specialist to deliver next-generation of integrated fire detection and smoke ventilation systems
Acquisition of NSP expands TIS' capabilities and offers customers a more comprehensive suite of fire safety and smoke control solutions.
Inspired Villages appoints TIS as official technology partner
Later living operator and developer, Inspired Villages, selects TIS as official technology partner to accelerate innovation and streamline processes.
---