TIS has acquired NSP (Nationwide Specialist Projects Limited), a smoke control and ventilation specialist providing greater levels of safety in high-rise buildings.
The acquisition marks a significant milestone in TIS' ambitious growth strategy and enables it to continue delivering its promise of bringing new, smarter, impactful technology solutions to customers that help to improve safety, reduce costs and streamline operations. The combined expertise of TIS and NSP will bring to the market the industry's first technology-agnostic, fully integrated, automated fire detection, alert and smoke control system for customers.  The acquisition has been supported by Key Capital Partners (KCP) who themselves acquired a significant minority share in TIS in 2021.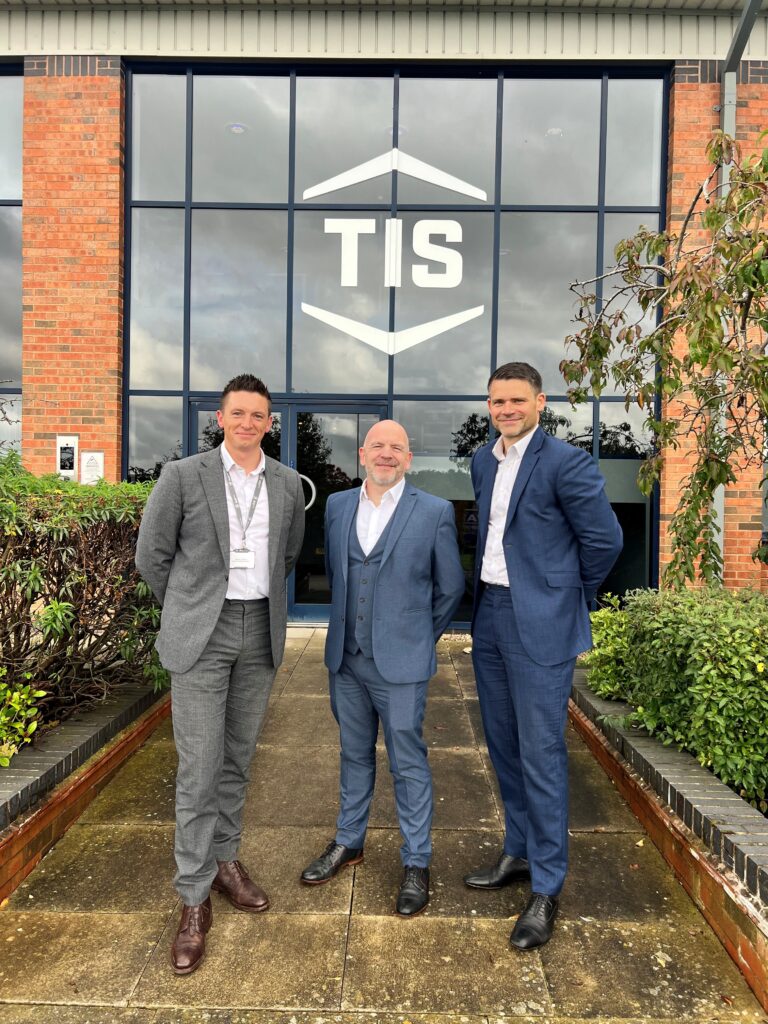 Image: (L-R) Chris Sutton (CFO at TIS), Lee Hewings (MD at NSP) and James Twigg (CEO at TIS)
NSP will become an important part of the TIS group and together, both businesses will complement and enhance each other, resulting in accelerated synergised growth. Complementary products and services and the combined geographical footprint of both businesses offers existing and future customers a more comprehensive suite of fire safety and smoke control solutions. The 20-strong NSP team will continue to operate from its Kidderminster headquarters, expanding TIS' West Midlands presence. TIS' offices in Mansfield, Nottingham, Birmingham, Leeds and Uxbridge expands NSP's reach to a national level.
James Twigg, CEO at TIS, commented:
"This acquisition is a decisive step forward for TIS, leveraging our recent growth capital to realise our broader vision of bringing processes and innovations that improve the way the world is protected as it lives and works. The deal strengthens our core capabilities and provides opportunities to enter other high-growth sectors such as residential developments. Together with NSP, we're bridging an important gap in fire safety and smoke control.

Our engagement with NSP was born out of a desire to provide access to valued resources that perfectly complement our own. The NSP management team brings significant industry knowledge and commercial expertise to TIS. Culturally it feels like a perfect fit with both businesses demonstrating a passion for delivering premium service. We are excited to welcome NSP into the TIS family and for our current customers to have access to even more systems under our unique offering of services and solutions"
Lee Hewings, Managing Director at NSP, commented:
"NSP's journey to this point has been about forging valuable collaborations and I am excited about the immediate opportunities our partnership with TIS will bring, enabling us to offer our innovative smoke control services, expertise and knowledge to a much larger audience. There are many similarities commercially and culturally between the way TIS and NSP operate, and I believe TIS' flexible, innovative approach to the design, installation and maintenance of integrated life safety and security systems will complement us well, bringing significant additional value to our customers."
James Hall, Managing Partner of Key Capital, said:
"The acquisition of NSP by TIS brings together two market-leading businesses and creates a group with real critical mass and a strongly differentiated proposition. We are excited by the group's future and the TIS board is looking forward to working with Lee and his highly-skilled team to build something really special."
About NSP
NSP (www.nationwidesp.co.uk) is a smoke control specialist for high-rise buildings; designing, installing, maintaining and certifying advanced smoke ventilation systems that protect lives and properties. Its next-generation solutions include smoke shafts, window systems, staircase systems, mechanical smoke ventilation systems, stair core pressurisation systems and car park ventilation systems. NSP's fully-compliant smoke control systems meet all relevant EN standards and are CE marked.
Latest news
Inspired Villages appoints TIS as official technology partner
Later living operator and developer, Inspired Villages, selects TIS as official technology partner to accelerate innovation and streamline processes.
TIS shortlisted for two Health Investor Awards: 'Partnership of the Year' and 'Best Use of Technology'
2023 Health Investor Awards shortlists reaffirm our commitment to the IRC sector and mark a significant milestone in TIS' growth strategy
---