Skills for Security 'Ultimate Apprentice Championship' pits apprenticeship teams against each other in a series of technical challenges 
TIS Academy apprentices have been crowned 'Ultimate Apprentices' in a national fire and security engineering competition hosted by Skills for Security at the NEC in Birmingham. The competition challenges competitors to showcase their engineering expertise, teamwork, communication skills, and improve their knowledge and experience.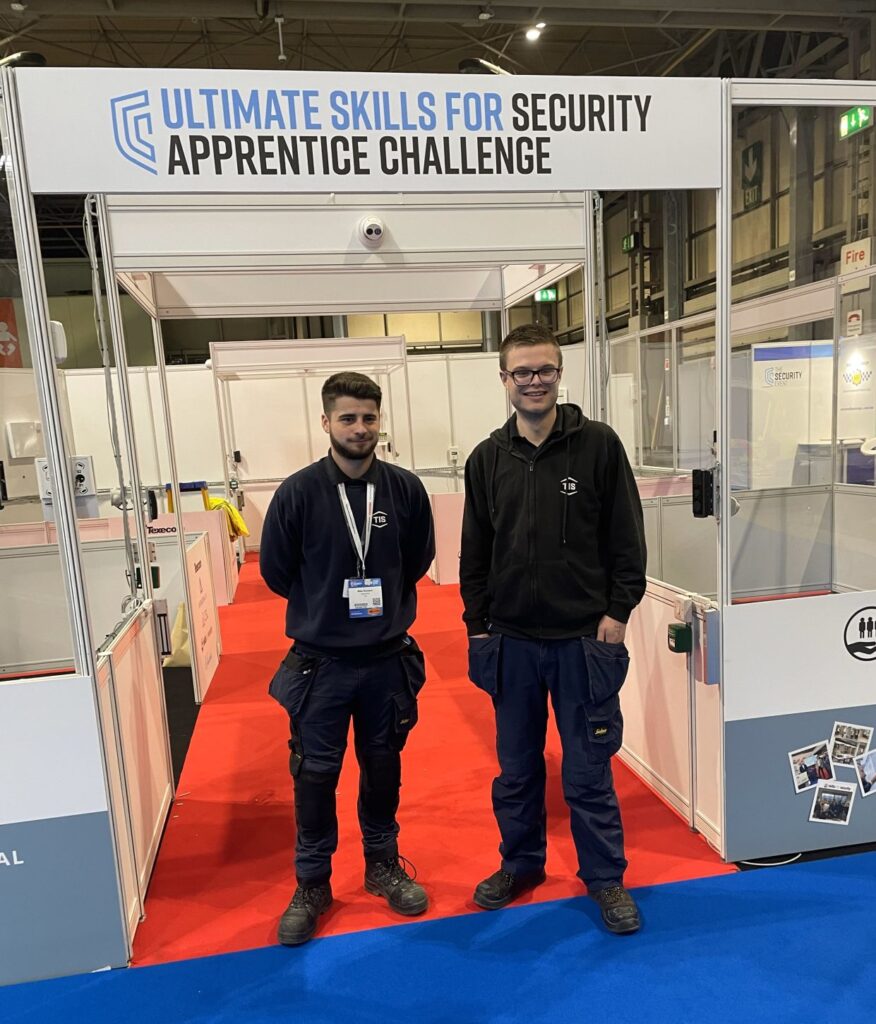 Apprentices Jack Kempson and Michael Romano were required to complete installations across multiple system types – intruder alarm, video surveillance, and access control and door entry – with assessment based on their equipment selection, technical engineering, standard of installation, termination and configuration, compliance checking and documentation. The winning TIS team won a £1,000 prize to share.
TIS launched its Apprenticeship Academy in 2021 to address the engineering skills shortage and create youth job opportunities across its offices in Mansfield, Nottingham, Coleshill (West Midlands), Leeds and Uxbridge.
High-quality apprenticeships are an essential component of economic success and with an estimated shortfall of 30,000 skilled engineers in the fire and security industry, the TIS Academy is helping to fill the deficit.
James Twigg, CEO, TIS, said:
"We're very proud of what Jack and Michael have accomplished in this apprenticeship challenge and it's a fantastic showcase for the whole TIS Academy team, from apprentices through to trainers and support staff. It was important for us as a business to launch the Academy and renew our commitment to deliver highly-skilled individuals across our growing and demanding business. It's fantastic to see our apprentices demonstrating their talent and being recognised for their hard work."
David Scott, Managing Director, Skills for Security, commented:
"Congratulations to both apprentices and to TIS for an unbelievable performance at this year's competition. Our judges this year were over the moon with the efforts and quality of work of all the competitors. Jack and Michael should all be delighted with the standard of their work completed over the competition."
Jack Kempson, TIS Academy Apprentice and 'Ultimate Apprentice Championship' winner, added:
"I think the Skills for Security challenge was a great opportunity to participate in and gain additional practical experience across a range of new systems we haven't worked on before. The competition element was interesting as it put us into new situations we hadn't faced with unfamiliar technologies. Fortunately, we were able to put into practice the knowledge we've gained from the Academy to figure out how to complete the technical specification. To win the competition was an added bonus!"
Michael Romano, TIS Academy Apprentice and 'Ultimate Apprentice Championship' winner, added:
"It was an honour to be invited to participate in the challenge and represent TIS. It was a fantastic experience and provided valuable insights into the influential names and companies in the sector. The challenge was a great opportunity for us as apprentices to showcase our skills and take pride in our work with a live audience. I was able to connect with other security professionals and listen to their ideas."
Latest news
TIS acquires smoke control specialist to deliver next-generation of integrated fire detection and smoke ventilation systems
Acquisition of NSP expands TIS' capabilities and offers customers a more comprehensive suite of fire safety and smoke control solutions.
Inspired Villages appoints TIS as official technology partner
Later living operator and developer, Inspired Villages, selects TIS as official technology partner to accelerate innovation and streamline processes.
---